&nbsp
Site Data Quick Links - Look It Up!



PWRS HEADLINES & NOTES:



DECEMBER 2019 KPWR STATION
BASIC STATS OF CLIMATOLOGICAL DATA:
(December database to 1976)

ABOVE NORMAL AVERAGE TEMPS
(47.6° or +2.8°)

BELOW-NORMAL RAIN 2.44" (-0.86"/74%)

2019 ANNUAL RAIN 49.79" (-0.81"/98%)
---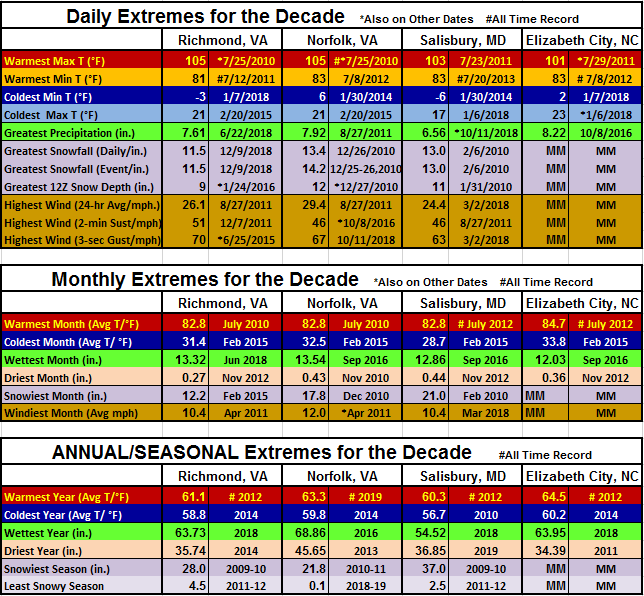 NWS WAKEFIELD REPORT:
DECADE 2010-2019 EXTREMES
[ Richmond, Norfolk, Salisbury, Elizabeth City ]


---
&nbsp
&nbsp
&nbspWINTER PREPAREDNESS
WEATHER-READY NATION


---
ARCHIVE OF DAILY DATA SUMMARIES


&nbspPWRS NEW STATION RECORDS


PWRS MONTHLY & YEAR-TO-DATE
CLIMATOLOGICAL SUMMARIES
PWRS MONTHLY ALMANAC
WEATHER DESK MORNING UPDATES:
-> Past 24-hours Observations
-> Monthly Observations
-> Daily Summaries
-> Monthly Summaries


NWS AKQ SPECIAL STATEMENTS
NWS AKQ PORTSMOUTH
SPECIFIC SPECIAL STATEMENTS
NWS AKQ DAILY PRECIPITATION SUMMARY
PWRS APRSWXNET OBSERVATION PAGE
PWRS WEATHER UNDERGROUND DASHBOARD
PWRS Main Weather Subpages
observations
now & then; real-time observations from West Cradock in Portsmouth, Virginia, and the world
quick data
links to the data files we update daily (click each phrase):
desktop graphics | past 24-hours obs | accumulated monthly obs | today's preliminary summary | yesterday's summary | current monthly summary | monthly LCD summaries | graph of obs past 5-days | station day-by-day almanac
webcams
cams to check local, time-lapse video, archived movies from the weather observation window
trends
weather trends shown in graphical plots
climate database
daily, monthly, yearly, long-term, extremes & normals
forecasts & tools
get your forecast & tools for forecast here including discussions, maps, conversion calculators, satellite images
astronomical data, tides
marine forecasts & tides
coastal waterway forecasts & tidal predictions, discussions, maps, conversion calculators, satellite images
astronomical data, tides
model projections
computer model analyses and projections
monthly summary
current data updated daily
radars & satellite imagery
local, Virginia, national, and beyond!
severe weather
severe weather watches and warnings locally and across
the United States
tropical weather
when the tropics are alive, so are we!
updates
the files we update each day


Other Station Quickpaths:
PWRS Datalogger Raw Data:
[unedited]
Today Yesterday

Full Desktop Display

All Data Summary

Search PWRS / WEB
for More Weather
Search our site for data & documents below:
© 1995-present by PWRS
Portsmouth, Virginia

West Cradock
Portsmouth, Virginia


HD WEATHER
WINDOW/OFFICE/NEARBY



Image above & below (when available)
may not be viewable in early version browsers
Images above from nearby South Norfolk Jordan Bridge
(~1 statute mile NE of station)

Click to check strip chart for past 30-days.
MEDIA-READY GRAPHICS
Most recent
Expanded Station Observations
all times are Eastern Time (US)
Updated @ 10:29pm ET

Visibilities

Visibility @ KPVG
Hampton Roads Executive Airport - Chesapeake, Virginia
(near Bowers Hill)

10 statute miles

Visibility @ at KNGU
Naval Air Station - Chambers Field - Norfolk, Virginia

10 statute miles

Visibility @ at KORF
Norfolk International Airport - Norfolk, Virginia

10 statute miles

Visibility @ at KCPK
Chesapeake Regional Airport - Chesapeake, Virginia

10 statute miles

Temperatures
Current: 31.4° at 10:29pm
Comfort Level: Uncomfortably Cold
Max: 35.1° at 12:00am
Min: 27.3° at 7:30am
24-hour Difference: -4.9°
Daily Average: 31.9°
Wind Chill: 22.0° at 10:29pm
Min: 13.4° at 8:23am
Heat Index: 33.0° at 10:29pm
Max: 36.3° at 12:04am

Dew Point
Current: 18.3° at 10:29pm
Max: 20.8° at 1:01pm
Min: 16.2° at 6:45am

Relative Humidity
Current: 58.0% at 10:29pm
Max: 66.0% at 10:16am
Min: 51.0% at 6:36pm

Wind Speed & Direction
Current max wind speed:
N&nbsp 18 mph | 10:29pm
Max: 33 mph at 1:54am

Daily Average Direction: 338°

Barometric (Sea Level) Pressure
Current: 30.355" & Rising
at 10:29pm
Rate: 0.005" past hour
24-hour Difference: 0.267"
Max: 30.356" at 10:23pm
Min: 30.104" at 12:00am
Average: 30.350"
Rainfall
Hourly: 0.00" at 10:29pm
Rain Rate: 0.00" per hour
Daily: 0.00" thru 10:29pm
Past 24-hours ending 10:29pm: 0.00"
Monthly: 2.92"
Yearly: 2.92"
Sun & Moon
Sunrise: 7:14am
Sunset: 5:16pm
Moonrise: 3:23am
Moonset: 1:44pm
Station Seasonal Snowfall
2019-2020
Season Total: TRACE
TRACE 11/12/19